CUSTOM INSERTS FOR LUXURY PACKAGING
Box inserts instantly transform a box into a presentation pack, lending a theatrical element to the customer experience and allowing brands to create bespoke gift sets and collaborations.  The only limit it your imagination!
Packaging inserts can be made from a range of different materials and are designed to hold bottles and jars securely within the box itself. This may be desirable simply to protect box contents from damage during storage or transit, but can also be used to display products in a luxurious way, lending some additional theatre to the unboxing experience. Inserts are also an ideal solution for creating boxed gift sets containing a range of products and accessories within one pack.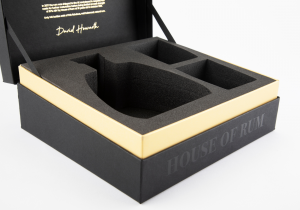 EVA Foam
Foam inserts give a deluxe feel to any presentation pack and quite literally cocoon your product in softness so it remains secure in transit and also for onward gifting! Our foam inserts are typically covered in velvet for a tactile, luxurious feel, but other fabric options are available for a bespoke look.
Rigid Board
Rigid board inserts blend seamlessly with rigid board boxes. They can be wrapped and finished in the same style as the exterior, so it's hard to tell where the box ends and the insert begins! From minimal designs like a simple neck hold to fully bespoke die-cut inserts, rigid board offers excellent versatility and is more environmentally-friendly than foam.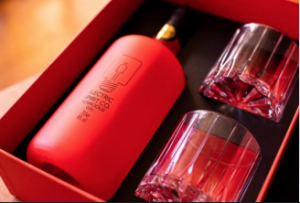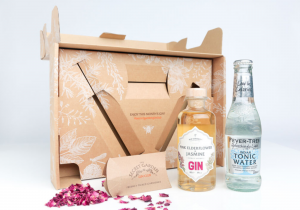 Corrugated Inserts
Corrugated box inserts are fantastic for protecting your box contents in transit since they offer superior impact resistance. Corrugated board can also be wrapped or printed for a premium look and feel, or left natural for brands wishing to convey a more eco-friendly vibe. Corrugated inserts are also ideal for creating miniature packs to be sent by post for subscriptions and gifting.
Folding Box Board
Folding box board inserts offer a lighter and more cost-effective alternative to rigid board inserts, while still achieving a sleek and professional look that blends seamlessly with the box exterior. They're an ideal choice for packaging miniature selections and lightweight gift packs.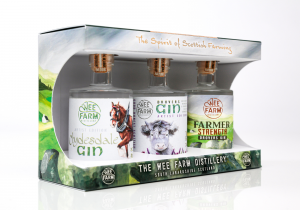 Get in touch
With vast experience in luxury and bespoke presentation packaging, we've yet to find a design or manufacturing question our experienced team can't answer. Contact us today to discuss your unique requirements further.