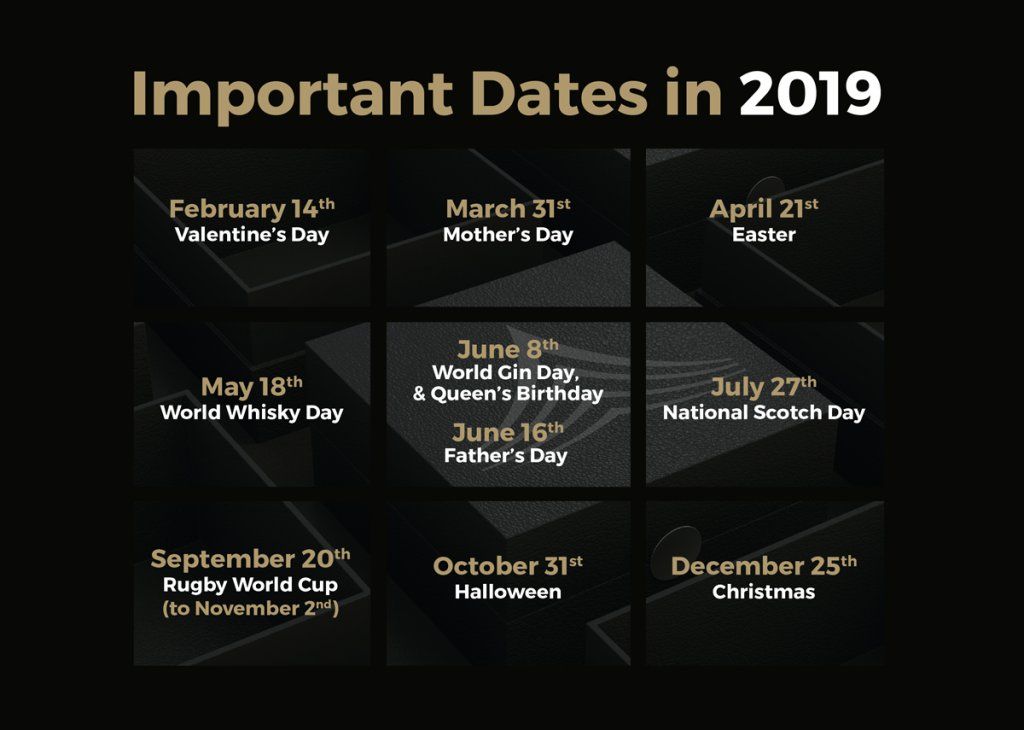 With its long, dark days, it can be difficult to get motivated in January – but if you're not already planning ahead for more inspiring times then you're definitely missing a trick!
The arrival of a New Year means there's a whole calendar of significant holidays and celebrations to look forward to, and that means there are a ton of packaging opportunities just waiting to be grabbed with both hands.
From fine wines and spirits to deluxe cosmetics and confectionery, a clever approach to packaging is all that's needed to adapt your product to any occasion or seasonal event.
Why not forge a Celtic connection with evocative packaging for St Patrick's Day, or create cute Easter boxes with novelty die-cutting that will captivate young and old alike? You could even tap into the trend for collectable packaging and create limited edition boxes to coincide with historical anniversaries such as the 200th anniversary of Queen Victoria's birth in May or the 75th anniversary of the D-Day landings this June – sure to be coveted by collectors and historians alike.
Within the drinks market, most fine spirits now have their own dedicated days, such as World Whisky Day on May 18th, or World Gin Day which coincides with HM The Queen's birthday on June 8th – a double cause for celebration!
For luxury or artisan products like make-up, candles and home-wares, you could really go outside the box, drawing inspiration from designated days like International Self Care Day on July 24. Of course, we shouldn't overlook the more obvious gifting campaigns for the important people in our lives – Mother's Day falls on March 31st and Father's Day on June 16th (and dare we mention Christmas? It's never too early to plan ahead!)
If gastronomy is your specialism, then make sure to do your homework on the days that best suit your niche – World Chocolate Day on July 7th definitely gets our vote!
You could also launch a packaging campaign to coincide with a major sporting event, with the added bonus of a much longer product lifespan – how about the Rugby World Cup from September 20th to November 2nd this year, or the 148th British Open Championships in golf, which heads to Northern Ireland for four days from July 18th?
Finally, if you really want to get your customers talking, keep your ear to the ground for some of the fun and wacky days or months that might pique their interest or be a good fit for your particular brand. Some campaigns we've loved in previous years include a luxury men's grooming brand that used packaging to make a retro-cool statement as well as highlighting important health messaging around the annual 'Movember' campaign, and a frozen seafood brand that jumped on the bandwagon for 'International Talk Like a Pirate Day', with packaging forming the launch pad for an entire advertising and social media campaign!
Whatever your vision – or even if you need some inspiration to help your product stand out in the year ahead – here at Clyde we've got all the ideas and expertise you need to make a little magic in 2019. Talk to our experienced design team today for the lowdown on what's possible (clue: the only limit is your imagination!).