Companies over the Uk pivoted to offer virtual tasting sessions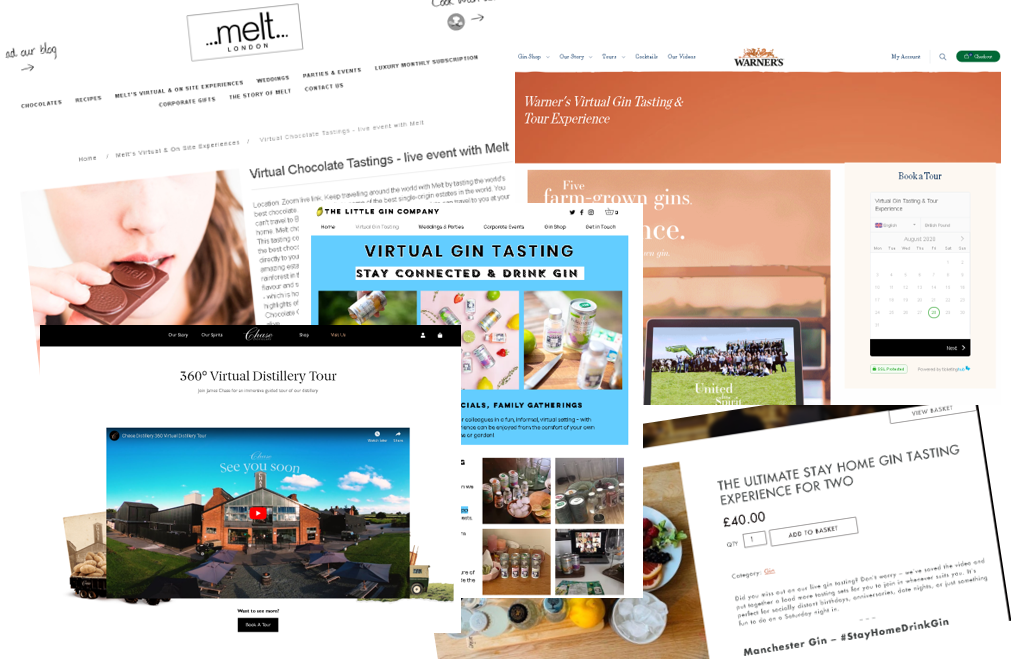 Tourism has become a significant revenue stream for distilleries all over the UK.  People are fascinated by the journey their favourite tipple goes on before it reaches their tastebuds, and with a long history of brewing and distilling, many UK companies have captivating stories to tell.
While many people revel in learning the history behind their favourite brands, for others the beauty of a distillery tour is in seeing the product being manufactured – and of course, getting to sample it at source!  Many distilleries offer complex tasting and food pairing experiences that allow connoisseurs to explore a whole new world of flavour and enjoyment they can use to impress their friends at future celebrations.
Of course, Covid-19 put a stop to all of this for many weeks, pushing distilleries to come up with a creative solution – and the virtual tour was born!  Even now that distillery tours can go ahead, travel restrictions and general caution around non-essential outings mean that the popularity of the virtual tour continues to grow.
What is a virtual distillery tour?
The premise is both simple and delightful – a tasting pack of miniatures, mixers, garnishes and other treats delivered to your door, plus an invite to a guided online tasting experience conducted securely over Zoom.  You can book your experience as an individual, a couple or a group, and get direct access to the experts – sometimes even the owners of these incredible brands, which wouldn't always be practical in a face-to-face setting.
As well as being safe and convenient, these virtual tours are a really cost-effective option for distilleries, requiring minimal manpower while still delivering an immersive experience that builds brand loyalty – in fact, they're a great way to pique the appetite of consumers to return for a real-life tour when that's possible again.
So what's all this got to do with packaging?
Virtual tours are an experience like any other.  They have the products, and they have the expertise – but they don't have the atmosphere, and this is where great packaging can really enhance the overall experience.
Firstly, it can be a challenge to effectively pack all the different elements into one box – most distilleries want to include mixers, garnishes, blending tools, information cards and sometimes even keepsakes like badges or keyrings in a single pack that keeps postage costs to a minimum.
Secondly, there's the overall theatre of the experience to consider.  Distilleries can't physically welcome visitors to their tasting tour, so the packaging has to do it for them.  Just as arriving at a venue comes with a feeling of anticipation, so should receiving a virtual tour pack in the post.  Just as exploring the history-steeped rooms of a distillery feels intriguing, so should the unboxing of a tasting pack – with something new and unexpected to discover at every turn.
Attention to detail is key, and with Clyde distillers can tap into a wealth of expertise and creative thinking to help make these virtual experiences truly out of this world.  Think about all the senses – how does the box look, how does it feel, what does it smell like?  With specialist finishing techniques such as embossing, hot foil and flocking, plus clever use of box design, colour and construction, we can help clients to create a totally bespoke presentation box that evokes elements of a real-life visit to the distillery, and ensures customers have a really memorable interaction with your brand – one they will be keen to repeat in the flesh as soon as possible!
To discuss how Clyde can help your venue to offer customers a virtual tour experience, email sales@clydepresentationpackaging.com today.
Credits for images:
www.microbarbox.com/virtual-gin-tasting-experience
www.thedramteam.co.uk/products/bi-monthly-subscription-club-virtual-whisky-master-class
www.edenmill.com/search?search=Virtual+tasting