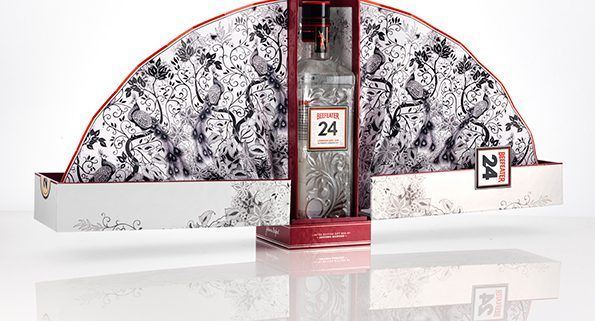 Rise of the designer packaging collab
Have you ever fallen head-over-heels in love while out shopping? We're not talking about meeting your future spouse of course – but have you ever seen a product, and without any sort of rational consideration, known instantly that you simply HAD to have it?
This sort of visceral customer response is the holy grail of marketing – and research shows that it's driven almost entirely by visual appearances. Therefore, it's no surprise that designers are increasingly going to great lengths to create visually captivating products and packaging that cause the consumer to fall in love at first sight.
One interesting strategy is the packaging collaboration – the creation of limited edition, collectible packaging in conjunction with an artist, fashion designer or other influencer.
We recently came across this incredible collab between the world renowned Royal Botanical Garden Edinburgh and Edinburgh Gin, a perfect example of how two established brands can come together to create something totally unique and covetable – would you be able to resist this limited edition gin, featuring delicate botanicals hand-picked from the RBGE on the inside, and hand-drawn on the outside with stunning embossing and foil blocking? Nope, neither could we. Which got us thinking – who else is doing this in the world of luxury packaging? Well, it turns out – lots of people! Here's a look at some of our favourites…
Iconic beauty brand Clinique teamed up with the Finnish design house in Spring 2018 to launch a limited edition capsule collection of Clinique's bestselling products, featuring some of Marimekko's best-loved prints. Renowned for bringing bold colour and fun into classically Scandinavian, functional design, the collaboration aimed to add an element of surprise to Clinique's classical aesthetic, transforming everyday luxury into a collector's item.
(Image credit: http://erikmtanner.com)
In 2017, luxury French cognac house Hennessy broke with its classic, ultra-refined image to launch an über-hip and exciting collaboration with American-born graffiti artist, JonOne. The artist, whose works on canvas have latterly sold for thousands of dollars, created Hennessy's most avant-garde packaging design to date, aimed at promoting the brand to a new generation of cognac drinkers.
From a rural fish farm in Aberdeenshire to some of the world's most iconic brands, Johanna Basford's meteoric rise as an artist and multi-million selling commercial illustrator saw her awarded the OBE in 2016. Prior to this, Basford collaborated with the inherently British brand, Beefeater 24 Gin, to create a limited edition pack – and the result was incredible! Featuring delicately inked peacocks amid a forest of botanicals, the pack design extended to an amazing box with concertina-folded panels which the artist herself described as "glamorous pop-up book meets cocktail cabinet chic" – almost too good to open! (Almost.)
These collaborations really illustrate the incredible things that can happen when creativity is applied to something as functional as product packaging. Whether or not you have a famous designer on hand to help, the boundaries are just waiting to be pushed! Contact Clyde today to find out how we can help you do just that.