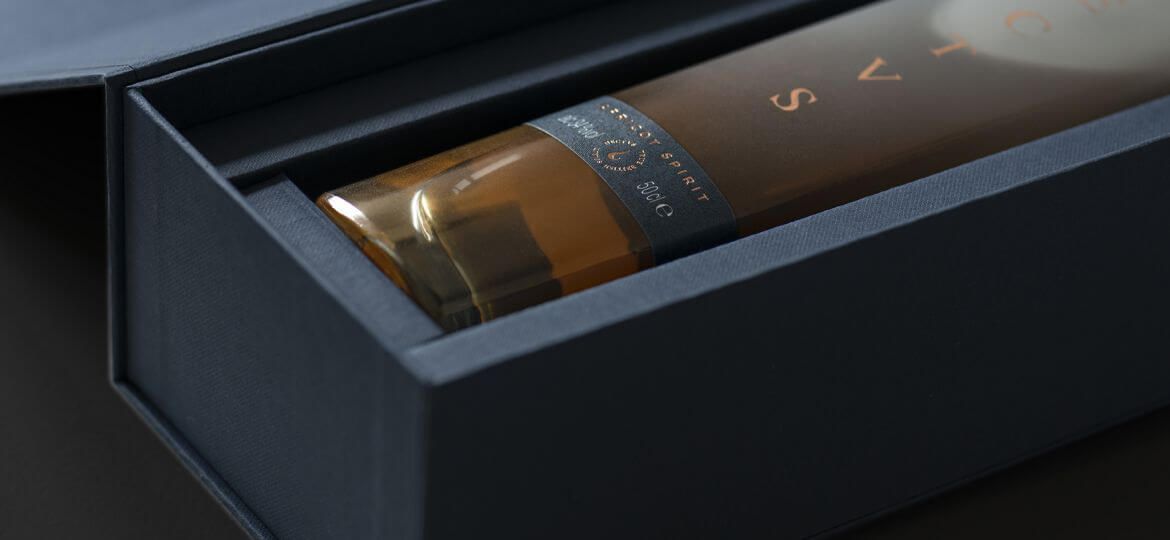 Packaging design is constantly innovating, and you need to consistently think of ways to make an impression when launching a new product. To take that next step ahead of the competition, it's worth looking at bespoke packaging, and that's where the team here at Clyde Presentation Packaging are on-hand to help.


Bespoke packaging is custom made packaging designed to safely hold the product, for example a glass bottle of alcohol, whilst also standing out in a way that draws in customers to make a purchase. At Clyde Presentation Packaging, we believe that there's so much more to packaging that meets the eye. It can raise awareness of your brand drive sales and help you engage with new and loyal customers regardless of whether you're experienced or a start-up.
We provide bespoke product packaging solutions that can help elevate your product, whether you're in the alcohol and spirits industry, artisan foods, cosmetics or deluxe gifts. We also believe that going to that next level of bespoke packaging is what can turn a good product into a great product, and here are four key reasons why.
1. Attracts Customers
Deciding on the style and design of the packaging is arguably one of the most important aspects of the production process. It's vital for your branding to ensure you have unique bespoke packaging which stands out in an attractive manner because this is what can determine whether a customer makes a purchase or not.
By taking your packaging to the next level, for example with our Spot UV Varnish which can take colour depth to a new level of vibrancy, it will add to the customers overall experience when purchasing. They may then want to post about their purchase online or recommend it to family and friends, further raising the profile of your brand and product.
2. Eco-Friendly
Customers are paying more attention to the environmental impact of purchasing products, and that all starts from the packaging. If the design is sustainable and easy to reuse and recycle, then this gives a clear indication that the product is from a company that cares about the impact that packaging can have on the environment.
By using bespoke packaging, not only will the materials used result in an eco-friendly solution reducing carbon footprint, but it'll also have a positive impact on your brands image leading to increase in customer loyalty and sales.
We care about the sustainability of bespoke packaging, which is why we are an FSC, PEFC and ISO 14001 accredited firm. This means that we ensure that resources for your bespoke packaging are from well-managed forests which are sustainable but still of the highest quality whilst following stringent internal guidelines and processes.
3. Custom Made
Using the same, basic packaging for your products could lead to potential issues relating to the other points we've raised. By using bespoke product packaging, you're given a solution that can be tailored for your specific product making it unique and standing out from your competitors.
Whether it's a rigid box, folding boxboard or paper bag, this can be customised by us to suit your branding and product style. Other factors such as sustainability and protection are also a big part of the design so that brand awareness remains positive and customers stay happy when purchasing.
4. Protects The Product
Of course, your product needs to look good, but by taking the time to protect it within the packaging is another step to ensure that the customer's experience is positive.
Especially in the alcohol and spirits industry where products are fragile, you want the strongest materials possible whilst also making sure it's sustainable and still sticking to the brands image. By using bespoke product packaging, such as our variety of inserts, allows you to have a luxurious design that's fitted to match your products size, which greatly reduces the risk of damage during transportation.
At Clyde Presentation Packaging, we ensure our bespoke packaging services focus on the level of protection of the design as much as the overall presentation to meet your needs.
If you're looking at new ways to present your deluxe items with the right packaging, then Clyde Presentation Packaging is here to help. We provide a variety of amazing bespoke packaging services to suit your requirements, all of which are designed to the highest standard and fully customisable. Please get in touch if you'd like to find out more.